Vacuum Dehydrator (WPRS)
The Dehydrator is designed to maximise water removal and achieve an overall water content down to as low as 20 ppm. The unit will also remove solid particulate contamination, as well as harmful gasses, which will result in a CLEAN and  DRY fluid.
The Dehydrator uses high efficiency rated filter media β͓ ©>1000 per ISO I6889, achieving the desired cleanliness codes for each system.
The Dehydrator will effectively remove entrained air and gasses from the fluid, which includes Benzene, Methane,H2S etc.(flair adaptable for H2S).
Typical flow rates range from 7-370 L/min and can be used in a wide range of applications, where Gear oils, hydraulic oils, Phosphate Ester fluids and insulating oils are the working fluid is applied .
Cleaner fluid will save time and money, eliminating the headache of reduced productivity.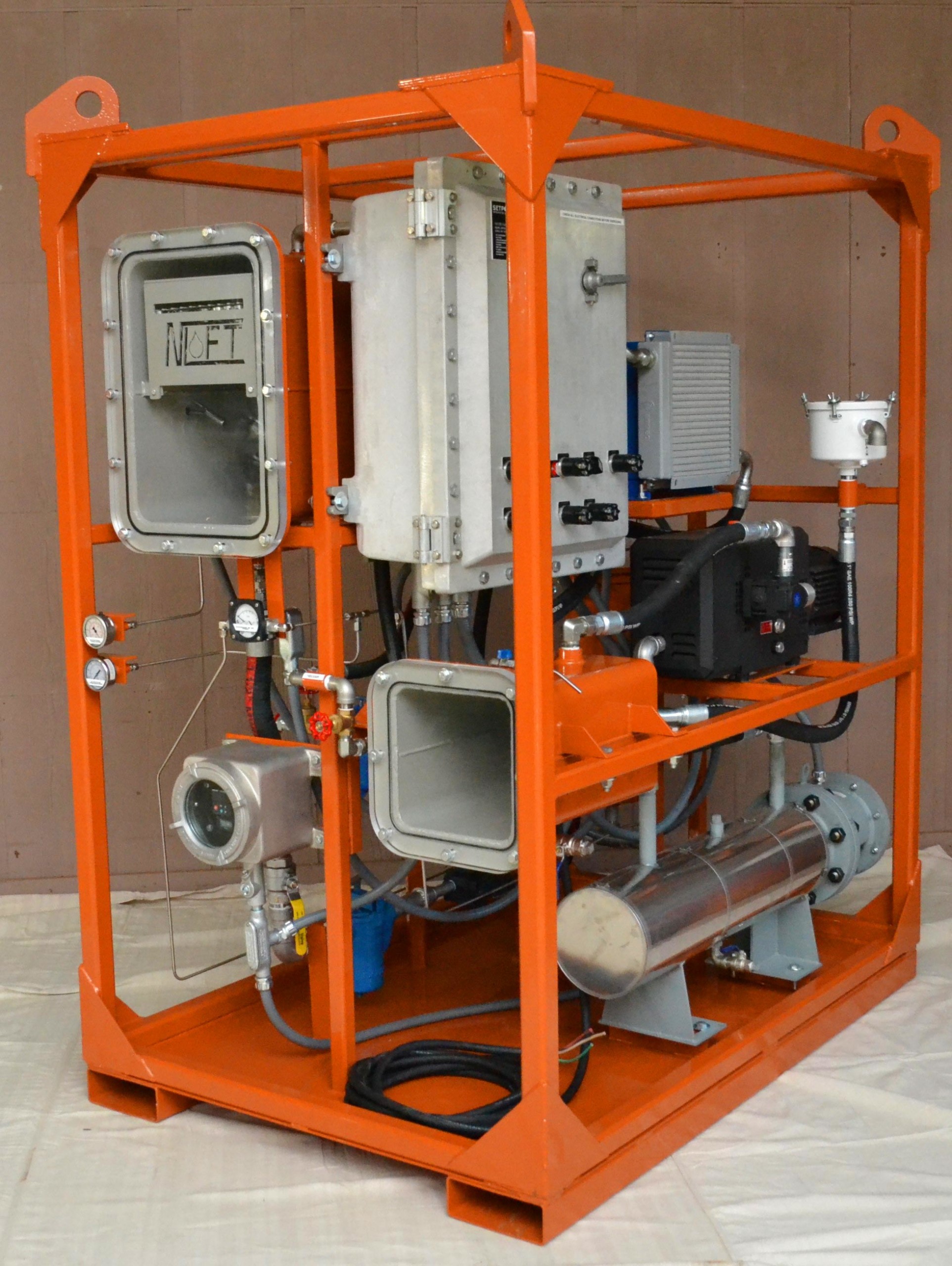 Optional Features
Custom Design

Foam Sensor

Particle Monitor

Various Voltage and Frequencies

Automatic water purge
Typical Applications
| Feature | Benefit |
| --- | --- |
| Rotary Claw Vacuum Pump, which requires | Higher CFM, maximising water removal |
| Variable Frequency Drive | Versatility on high viscosity fluids and Cold oil applications |
| Electrical Phase reversal Switch | Eliminates the need to physically change the rotation of electric motors |
| Anti- wear media | Vacuum Tower media never has to be replaced, eliminating costly element usage |
| Low watt Density Heater | Prevents coking of oil and additives damage |
| Positive displacement Gear Pump | Self priming with adjustable Relief Valve |
| Various micro glass elements media to ISO 16889 | High Efficiency elements rated Βx©>1000 |
High Vacuum Transformer Oil Conditioning Unit
The High Vacuum Transformer Oil Conditioning Unit is multi- purpose, with a high Kw low density heater and a 2-stage vacuum pump with booster. The unit will produce dry Transformer oil, by removing water content down to 10ppm or lower.
Optional Features
Custom Design

Doble Domino Moisture Sensor

Nema 7 applications

Various Voltage and Frequencies

Multi stage particle filtration

Acid removal
Standard Features
Two-stage Rotary Claw Vacuum Pump, with booster

Dual Variable Frequency Drive

Coalesce Vacuum tower media

Phase reversal switch

Incoloy Low watt Density Heater

Positive displacement Gear Pumps

Digital flow meter and totalizer

Various micro glass elements media to ISO 16889