CNC Machine Cleaning & Fluid Management Services
Maintaining a clean and healthy coolant system for your CNC machines is not only a legal requirement for health and safety, but it is also a very effective way to increase tool life, cutter speeds and machine life. To gain the best performance, keep employees safe and to increase profitability, metalworking fluids should also be correctly managed and controlled.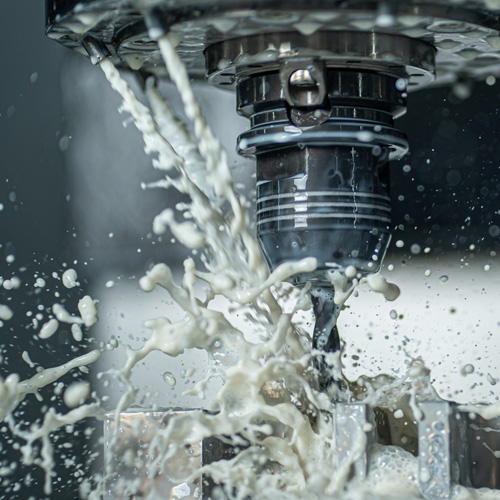 Benefits of CNC Machine Cleaning
Keep up to date with your legal requirements

Help to prevent skin irritation

Help to increase tool life

Help to increase cutter feeds and speeds

Help to extend machine life

Reduce and remove tramp oil
Our team of fluid management experts will undertake testing of the fluids for you and submit a detailed report on their findings. They will then advise on corrective actions which will assist you in keeping you HSE compliant.
We can even carry out the corrective actions for you if required, ensuring confidence that they have been undertaken correctly.
Below are the tests that need to be carried out to ensure that your fluids meet HSE standards.
| Test Required | Frequency Required |
| --- | --- |
| Appearance and Odour | Daily |
| Concentration Check | Weekly |
| pH Check | Weekly |
| Dirt and Fines Assessment | Weekly |
| Test Required | Frequency Required |
| --- | --- |
| Tramp Oil Levels | Weekly |
| Microbes | Minimum Weekly |
| Water Hardness | Monthly |
| Corrosion Testing | Monthly |
Operating Temperature
A visual assessment of the machine sump and sample will give a good indication of fluid condition.
Concentration
A refractometer is the ideal tool for shop floor checks on single sump machine, the reading should be sharp. If blurred, then there may be tramp oil or stability problems.
Dirt/Fines Levels
Dirt / Fines to be at minimal levels dependant on the application.
pH gives a good indication of fluid condition.
Bacteria and fungi produce acids which reduce emulsion pH

A sharp drop in pH usually means an increase in bacteria levels
Tramp Oil
Current HSE Guidance states a maximum 2% volume for tramp oil.
Monitoring Microbial Contamination
Dip slides are cost effective and simple easy to use. They tell us the level of contamination so we can determine corrective action. HSE requires testing to be weekly minimum. (* can be extended)
Corrosion
To ensure machine and parts do not corrode.
Keep good records

Simple charts can track result trends

Records should give history of recommendations and actions taken
Our cleaning process includes:
Pump out the old coolant
Analyse the coolant for quality
Remove trapped swarf and debris from sump and channels
Clean sump tank and conveyor
Flush the coolant system with additive
Check for leaks
Filter coolant (if re-using) and check concentration and bacteria
Refill coolant tank
Check CNC coolant filters and strainers
Replace coolant filters and strainers if required (optional extra)
Check hydraulic filters and replace if required (optional extra)
Fit a C-Thru© Separator to remove tramp oil (optional extra)
Fill out your legal documents to keep you in line with MW5 COSHH
CNC Coolant filtration systems inline and offline
For further details on our new service
please get in touch with our technicians at European Filter Solutions.