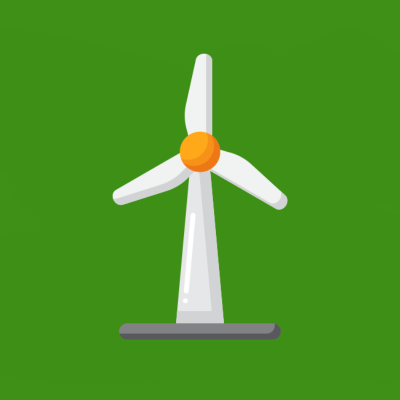 Wind energy in the UK and why Filter Systems are essential
Wind energy is actually a form of solar energy in itself, as wind is created by the sun heating up the Earth's atmosphere. As the atmosphere does not heat up evenly and gases behave differently at varying temperatures, pockets of high and low pressure are formed. The gases move between the low and high pressure pockets as nature balances them out in a process called diffusion.
The bigger the difference in pressure, the stronger the wind.
Harnessing this natural process makes for sustainable, carbon neutral energy. Using wind power to replace conventional fossil fuel power stations, it will be possible to facilitate a global overall reduction in carbon emissions.
According to the Office for National Statistics, wind power is one of the largest sources of renewable electricity in the UK and is expected to continue to grow, so will be important to meet "Net Zero". The UK government included wind power in The Ten Point Plan for a Green Industrial Revolution and in the Energy White Paper.
With so many wind turbines being constructed – the UK has the largest offshore wind farm in the world, Hornsea One, off the coast of Yorkshire – it is particularly important that wind turbines are properly maintained and as part of this process, it is essential to protect gearboxes from corrosion, wear and tear with the use of lubricants. Most lubrication and hydraulic systems failures are caused by oil contamination from dirt and moisture. That is why proper oil maintenance, monitoring, and filtration are a crucial part of preventive, structured maintenance programs.
---
Advantages of Wind Power
Secure and affordable source of energy – Turnover from wind energy was nearly £6 billion in 2019
Environmentally friendly – According to the National Grid, 2020 was the "greenest year on record" for Britain, with record high levels of wind energy generation
Creates jobs – Employment in offshore wind in the UK has increased significantly since 2015, with 7,200 full-time equivalent (FTE) employees in 2019. Employment in onshore wind has remained stable over the same period, with 4,400 employees in 2019
---
European Filter Solutions are official distributors for Eaton, leading providers of Filter systems and elements for wind turbine gearboxes. Eaton's compact TWF Twinfil filter systems provide reliability, durability and efficiency to the wind turbine gearbox and its lubrication system.
Features
Specially designed gear lubrication systems
Reliably supplies all gear lubrication option points as it filters and de-aerates the system
Indicates oil operating condition
Operates in cold weather conditions with an additional pump-assisted heating system6 bar bypass filtration integratedHydraulic scheme according to customer specificationsSimplified mounting eliminates misalignment issues
Benefits
Significant weight reduction over previous modelTop level filtration qualityLow maintenance needs and downtimeLow noise emissionSimple to serviceSeawater resistant
For more information, download our Eaton TWF Twinfil filter systems here.